What is Shyp?
Shyp is the new way to well…ship a package! All you need to do to ship a package or online return is enter a few destination details, snap a picture of the physical item and confirm the pickup. Shyp will then pick up the package and ship the item for you. Hassle free, quick and easy!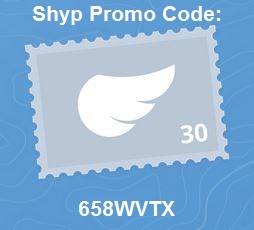 Shyp promo code for free shipping up to $30!? Sign. me. up!
To try out this amazing service, apply Shyp promo code 658WVTX before your first shipment and the shipment is free! This Shyp promo code will only work on your first shipment, and only for shipping costs less than $30. Essentially, this Shyp promo code gives you $30 of free shipping!
How to apply Shyp promo code 658WVTX
All you need to do to to apply this Shyp promo code is to download the app by clicking this link: http://get.shyp.com/ic/658wvtx or if you already have the mobile application, apply the shyp promo code using the instructions below.
Open your Shyp mobile application on your compatible phone or tablet. Find the Profile Icon and tap it (located at the top right-hand corner of the screen).
After opening your profile window, tap on the Shyp Promotions menu. It will open up a window like the one shown below. Enter in Shyp promo code 658WVTX in the space provided and tap done.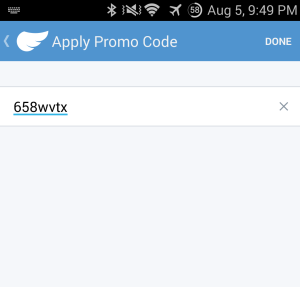 Thats all there is to applying Shyp promo code 658WTX to receive your first free shipment (up to $30)!
What cities does Shyp operate?
San Francisco
Shyp is available within the San Francisco city limits, from Lake Merced to Candlestick Park, up through the Presidio and the piers.
New York
Shyp is currently available for pickups in Manhattan up to 96th Street and in the following zip codes in Brooklyn: 11201, 11205, 11206, 11211, 11213, 11215, 11216, 11217, 11222, 11231, 11232, 11237, 11238, 11249, 11251.
Miami
Shyp is available within the city limits of Miami and Miami Beach.
Los Angeles
Shyp is in Los Angeles, currently servicing all of Santa Monica, Venice Beach, East Venice, Marina del Rey, West LA, Brentwood, Westwood, Century City, Hollywood, West Hollywood, Miracle Mile, Beverly Grove, Beverly Hills, South Beverly Hills, Sunset Strip, Los Feliz, Silverlake, Downtown, the Financial District and Pico-Union. You can confirm if Shyp is available in your area if your zip code is listed here: 90007, 90013, 90014, 90015, 90017, 90024, 90025, 90026, 90027, 90028, 90036, 90040, 90046, 90048, 90049, 90057, 90064, 90066, 90067, 90069, 90071, 90079, 90095, 90210, 90211, 90212, 90230, 90231, 90232, 90233, 90291, 90292, 90401, 90402, 90403, 90404, 90405.